2012 - Jatbula Trail - Getting There
Page 2 of 10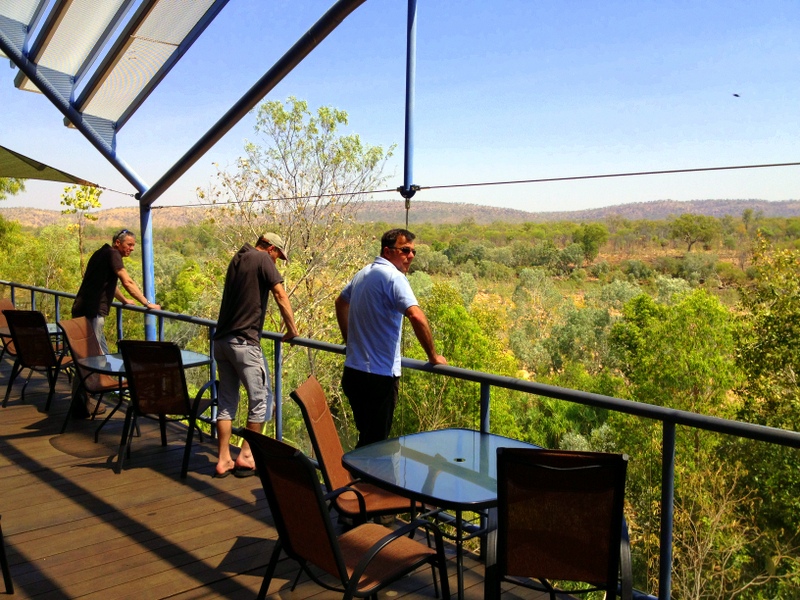 We make the most of the available time our flight out of Melbourne was for 2am, yep that's right - 2am. It was an ungodly hour. Onboard with us were a bunch of school kids from Cookatoo Primary School. This flight was a non-stop and arrived in Darwin at about 6.15am - 30 minutes late. We all got a couple of hours sleep. From the airport we picked up our hire car a Kia Carnival and headed off to Katherine. We stopped at a road side cafe in Adelaide River for breakfast. Breakfast was really good. On to Katherine for lunch and some supplies like gas cylinders, last minute food items and some stuff for breakfast in Friday morning as well as a bottle or 2 or wine to have with dinner on Thursday night. We had a tightish time table on Thursday. We needed to get our last minute supplies for the walk, get to Nitmiluk camping ground, make sure we had all of our walking gear and packed in the car our end of walk gear then Greg and Cam did the car shuffle thing, driving the Kia to Edith Falls where our walk would end and then to get a lift back with the bus company that drove walkers back to Katherine or Nitmiluk camping ground. The shuttle service left Edith Falls at 3pm sharp for the return trip.As Cam and Greg did the car shuffle, Pierre, JayBee and Chis did a bit of exploring. Being southerners we were somewhat weary of crocs in the Katherine Gorge as they do swim up. We were re-assured that it is fine to swim in the river, however, the sight of a croc trap on the other side of the river dampened our adventurous spirits so we paddled our feet in the river instead of going for a proper swim.
We walked around the gorge and went up to the look out to get a glimpse of the land that lay ahead of us. The rock around Katherine Gorge is really interesting with these layers of river pebbles held together with hardened (like concrete) sediments that would have been laid down millions of years ago.
We eventually made our way back to the bar were we partook in a few beers, before Greg and Cam arrived back. JayBee decided that we would call Penny (his good woman) from my phone, so I did the dialling - when Penny answered after the initial hellos I said "JayBee is legless - a croc was to blame - then, No not really - he is legless, but the Cascade Premiums were to blame"
Our accommodation for the night was a tent in the tent village. Each tent had with a couple of single beds and a wooden floor. Included in the price for the "tent" was dinner at the bar so it seemed to be a pretty good deal. We all order barra for dinner and it was good washed down with the red wine that we had purchased earlier as was the swim in the pool. The barramundi were small fillets and tasted a lot sweeter than the larger ones that we get in Melbourne. We did save one bottle for the trip which we decanted into a wine bladder bought from a camping shop. Backpack weights were not going to be an issue for this trip with the heaviest weighting in at about 20kg.
We were off to bed early and off to sleep within minutes.
Weather outlook for the trip - overnight lows of about 20 with day time highs in their mid 30s and no rain. What more could you ask for.