2013 - Overland Track - Day 2 - Waterfall Valley Hut to Lake Windermere Hut
Page 3 of 10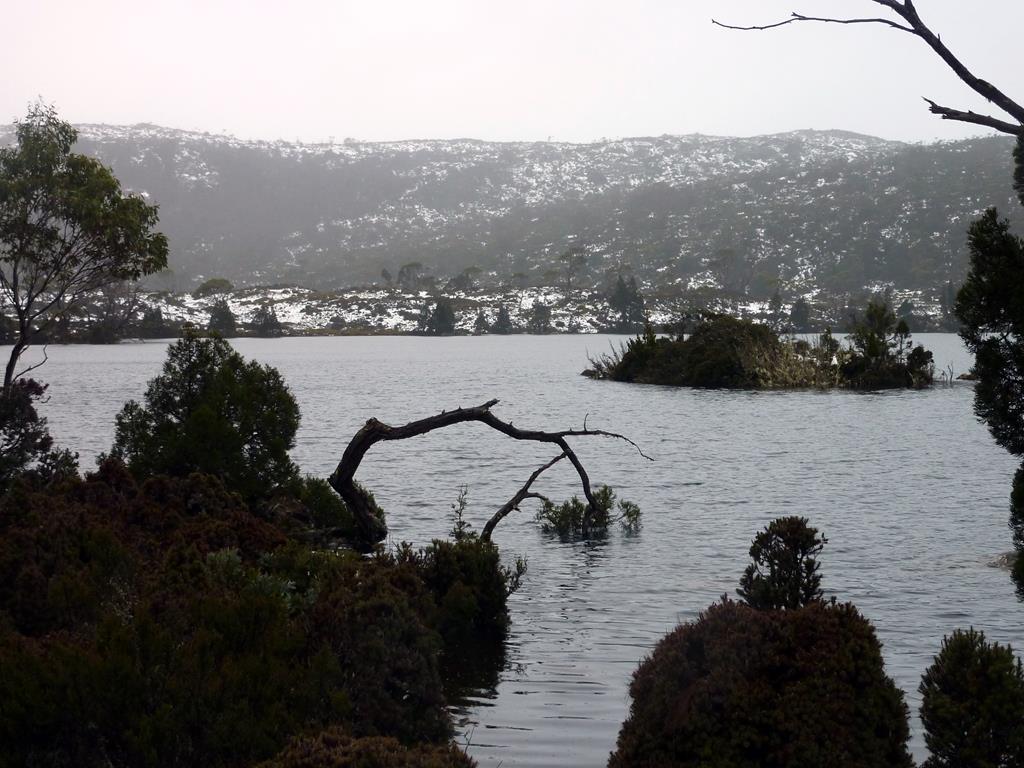 Saturday we awoke to driving snow and wind. As we were getting ready to leave 2 walkers arrived, one with a twisted knee which happened as a result of falling off the duck board as we had done many times, unfortunately in this instance it ended their walk. These walkers had camped just under Cradle Mountain in what shelter area they could find to setup their tent. The wind had made it impossible for them to have a hot meal before hitting the sack. There were great full for the shelter of Waterfall Valley Hut. A lone walker arrived shortly after and she was making her way to Cradle Mountain. She also just happened to be a doctor. After a little examination of his leg she suggested that he stay put. A written note to be delivered to the rangers at Cradle Mountain was completed and the good doctor delivered it on her way out on that day. A helicopter ride was planned for the injured walker when the weather was favourable which did not occur for a couple of days.
We eventually left braving wind, rain and sleet - really enjoyable NOT. We fortunately had purchased some Yak Trax to slip onto our boots which I've got to say make progress along the duck board significantly safer. Without them they would have been treacherously slippery and an injury would have been likely. We got to the Lake Wills turnoff but we were once again wet and it was felt that such a diversion would have been dangerous due to the chill factor brought about by the strong winds and the subsequent risk of hypothermia. We pushed on to get off the plateau that we were on. Once we dropped into the valley several ks on the wind abated and the walking became more pleasant. Lake Windermere was pretty spectacular. The snow and the bleakness of it all made the scenery all the more spectacular. We arrived at Lake Windermere hut and meet two other travelers heading for Cradle Mountain. It's always interesting to see what other people do and to swap track notes. We learnt that Windy Ridge hut was low on coal for the heater and that we may need to carry some in - good advise which we followed.
The weather cleared up a bit in the afternoon as Pete, Cam and Chis decided to walk back along from where we had come from to take some photos and to check out Lake Windermere a bit better. It's really nice to be able to dump the pack and do some sight seeing. This hut and the last hut were really well setup, and as it turned out all of the huts were really good and certainly provided welcome respite from the weather and an opportunity to get into dry clothes and to be able to dry out our "day clothes"