2013 - Overland Track - Day 4 - New Pelion Hut to Kia Ora Hut
Page 5 of 10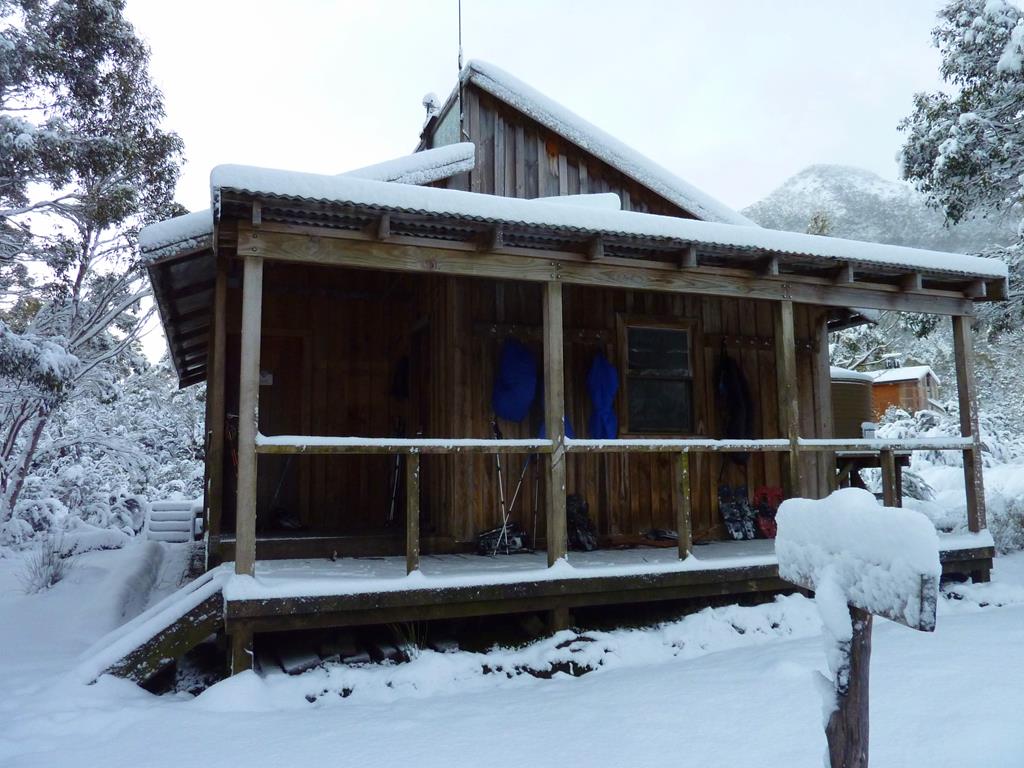 Monday started off well. We had a great start to the day with a sunny start. But as it goes in Tassie the weather soon closed in such that when we reached Pelion Gap the weather was pretty foul snowing, windy and cold. We were going to have just a quick snack but as quickly as the weather can close in it can also open up. We decided to try to bag Mount Pelion East - Mount Ossa would have just been too far and given the changeability of the weather. We dumped packs - now at New Pelion Hut there was a little warning sign about how clever the Carrawongs are at being able to undo zippers on packs.
All of us, except Mr Bean, had stacked our packs in a way to make it difficult for these birds to attack the zippers or we tied our zippers up so that they could not undo them.
In the meantime we donned snow shoes and set off for the summit of Pelion East. The clouds blew in and out as we went from overcast to sunny periods. As we got higher the landscape became more devoid of vegetation and more exposed. It was hilarious watching each of us fall through the snow covered bushes upto our waists and then trying to get out. The views from near the top were great and well worth the effort.
When we returned to where we had dumped our packs we noticed that there seemed to be a bit of a mess surrounding one pack, one in particular, the one belonging to Mr Bean. To add insult to injury the Currawong had also shat on his pack a couple of times.
The sun had broken through so we decided to have lunch and enjoy the great scenery. As we were finishing up the weather closed in and it started to dump heaps of snow. It snowed pretty much for the rest of the day and for most of the evening. We probably got about 30cm of snow.
The heater in Kia Ora was a coal heater so you could crank it up. Kia Ora is a great little hut, but once again I'd hate to see it when it is busy. Our next hut was Windy Ridge and we had been told that there was limited coal there so we loaded up with about 12 briquettes each. Just as well.