2013 - Overland Track - Day 8 - Pine Valley Hut to Lake St Clair
Page 9 of 10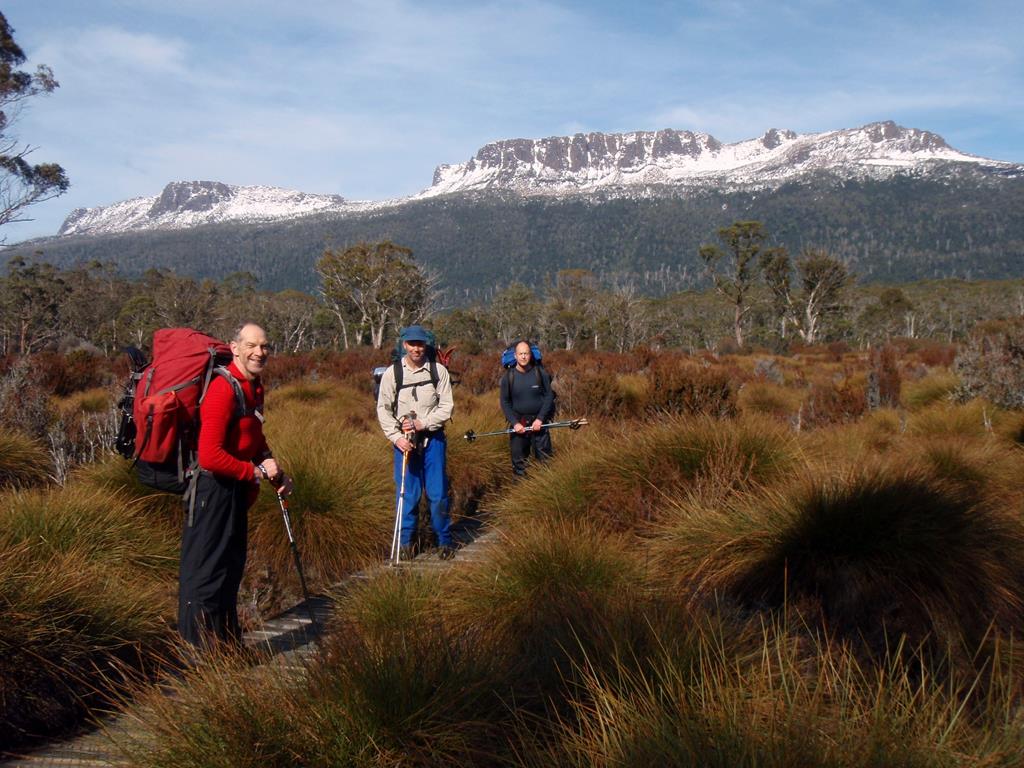 We awoke to a really pleasant morning that held the promise of a great day. We were not disappointed. For the first time on the trip we were able to shed our over pants and jackets - blue skies and pleasantly warm. We retraced our route back to the main track. Interestingly all of the water that had inundated the track two days ago had receded leaving a fairly clear path devoid of wading, even the knee part. The raging torrent that we had to use the log to cross was now more docile and a fall in would not have ended in a tragedy. We had lunch at the junction of the Pine Valley Hut track and the main track.
Along the way we took many shots of the ranges to the West of us - Mount Gould and Gould Plateau and to the East the Traveller Range. These ranges were still snow covered and looked spectacular with the sun shining through. This section of the track was easy to walk in part due to the extensive use board walks. Some may think that the board walks detract from the bush walking experience but they do absolutely preserve the track from wide spread erosion and therefore help to maintain the overall beauty of the area. The board walks also make this area accessible to a wide variety of people with varying degrees of fitness and mobility. JayBees dad walked this trail in his seventies. 
The walk into Narcissus Hut was a different experience from the previous days walking. We were walking through more button type grass versus the forests of the previous days. The views from the track were spectacular. Our boat was scheduled to pick us up at 1pm and we had arrived with some time to spare. The radio was not operating so we could not reach the ferry service. We were in mobile range so a quick call to let them know were had arrived and to confirm our pick up was settled. 
We had lunch and a bit of a poke around and then made our way to the jetty. This walk had many a cruel twist with the best being saved for last. The jetty was sitting in the middle of the lake, the duck board totally under water. We had made it through the whole day without wet feet , only to get them wet in the last 20 meters of the walk. Tasmania when you think its over - it ain't quite yet.
Ferry arrived on time and we back Cynthia Bay with our bus ready to pick us up and take us into Hobart for the evening.