2012 - Jatbula Trail - Day 5 - Sandy Camp to Edith Falls
Page 7 of 10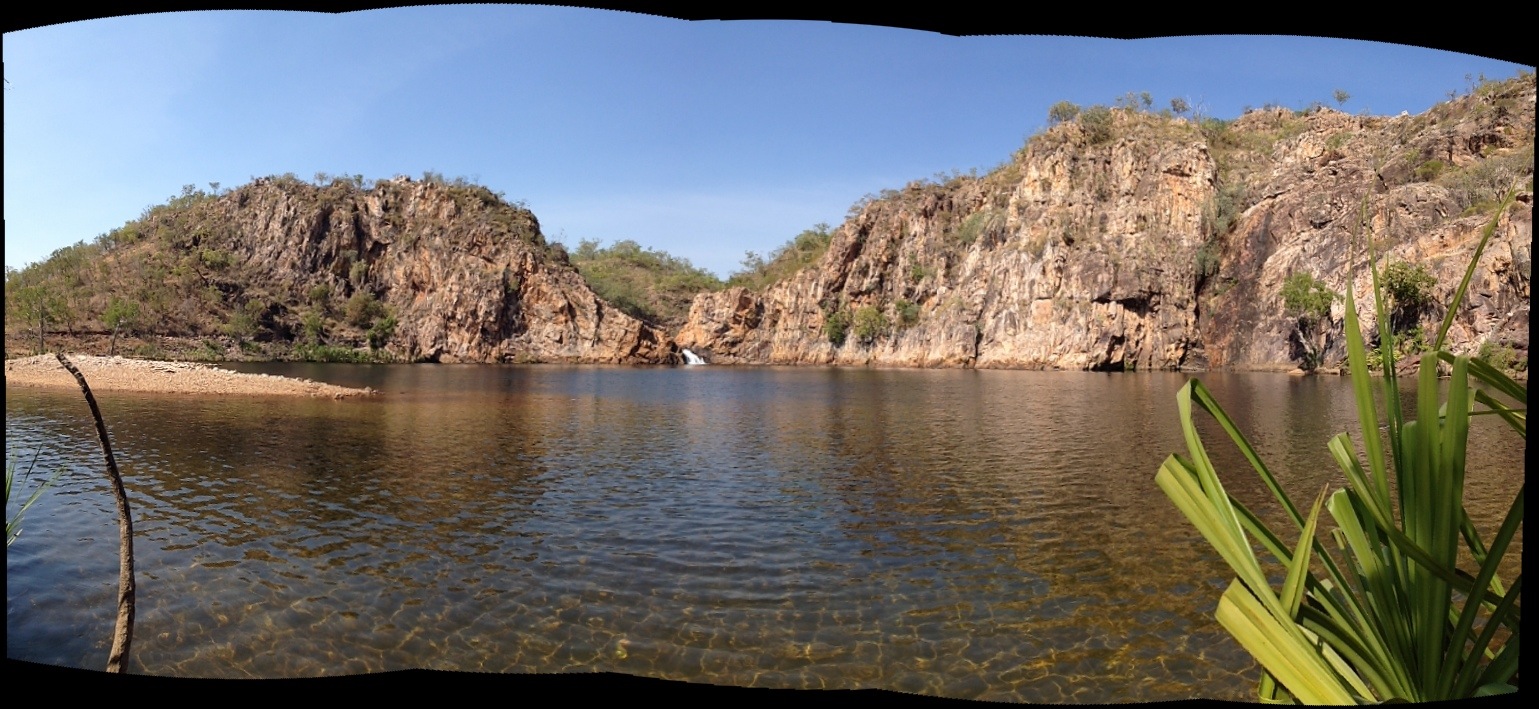 Tuesday we were going to walk from Sandy Camp to Sweet Water Pool but a discussion ensued around do we keep pushing on and finish the walk a day earlier or spend one last day on the track. We would decide what to do once we arrived at Sweet Water Pool.
As usual the day had heated up before we left. We were running a little late today and left camp at 8.30am. The trail took us past some really nice looking water holes, this time following the Edith River. On the river side there were lots of trees in various states of flower and lots of birds especially parrots.
Along the way we caught up with Nick (the solo walker) who had just had a fright after coming face to face with one of the brown snakes of the area. As a lone walker if you were to be bitten by one of these snakes it's unlikely that you would have a good outcome, especially if you were at the back of the walking pack.
We pushed on through some swampy land to eventually arrive at Sweet Water Pool. It was a large expanse of water that tumbled over a few cascades. The campsite was pretty ordinary having sustained significant flood damage.
We found a shady spot and had lunch and a swim. This was the last lunch we were to have on the trail. Given the state of the camp site we decided to push on and were glad that had decided to leave the Kia at Edith Falls as this gave us the flexibility of leaving early. We also met up with the rest of the walking groups at Edith Falls, all having decided to push on through to the end.
There was only about 3kms to go before we reached Long Pool and then about a k or 2 before reaching Edith Falls. Long Pool was a lovely expanse of water and would have made a great camping site but given how close we were to Edith falls we pushed on keen to get off to Jabiru. We could see in the distance the falling away of the land off the escarpment and knew that we were rapidly approaching the end of the walk.
Reaching Edith Falls was the end of our trip. We had our final swim in these waters swimming upto there the Edith River tumbles into the pool below. The water coming off the escarpment was warm, being several degrees warmer than the water in the pool. We ended up leaving Edith Falls at about 2pm in the afternoon
We packed up and drove back to Katherine for find a place to stay.
We ended up staying at the Riverview Tourist Village in a comfortable lodge that cold sleep all of us. Dinner was at the local club - Katherine Country Club just up the road from us.